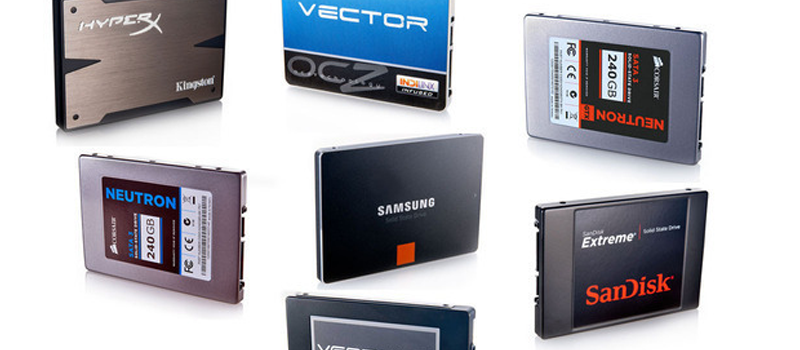 For the past several years we've witnessed a hot competition on the market of storage devices.  Hard Disk Drives are in the red corner of the ring. Proven, affordable, but slow – they've been the part of the PC world for over half a century. In the blue corner – lightning-fast new SSD-devices that rely on NAND flash memory chips.
The question that the majority of people face, when it comes to choosing configuration for desktop or laptop, is HDD or SSD?
We've already written about the advantages and disadvantages of SSDs in our previous article. Now let's go a bit deeper – if you decided to experience enormous performance and speed of modern solid-state disks, you should make another important choice before buying a particular model of SSD.
There are three different types of SSD memory (NAND) to choose from – SLC, MLC and TLC. What are the differences between them, and why you need to know this? What type is the best for you and your specific needs? We will try to answer all these questions in this article.
Cells and bits
SSD consists of a number of NAND chips and a special controller that manages the processes of writing and reading data.
For this purpose, it divides the entire available memory into "cells" that are later used to store and read information. And here lies the fundamental difference between the three types of NAND-memory. Each SLC memory cell (Single Level Cell) can store only one bit of information – one or zero. The MLC (Multi Level Cell) – two bits or more, and TLC (Triple Level Cell) – three bits.
In theory, it seems that TLC technology is the most promising and has the greatest potential of the three, but the reality is exactly opposite. The reason here lies in the structure of NAND-chips used in SSD. The problem is that the more times you overwrite a memory cell, the more it wears out. After a certain number of rewrite operations, it just stops working.
Cost or reliability
This is the main disadvantage of SSD technology compared to old-style HDDs. HDD also wears out with time, but most often it starts to give clear signs of close malfunction – appearance of bad sectors (ie, some parts of the drive cannot store information anymore). Accordingly, it causes a number of system warnings, that in many cases help to save at least a part of the data stored from the "dying" drive by transferring it to another media.
Alas, in the case of SSD there are no clear signs of coming disaster – when the cells are worn out, they simply cease to work, and all the recorded data goes into electronic oblivion.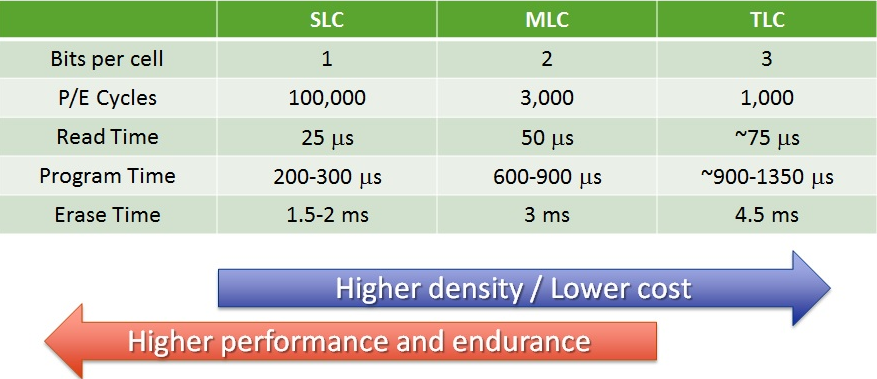 This may sound scary enough, but do not panic – this lack of technology is absolutely clear to SSD manufacturers, so they took a number of precautions to prevent the unfortunate scenario.
However, if you want to be as safe as possible from data loss on your SSD and max out its operation time, be sure to pay special attention to the type of NAND-chips that it has on board.
The most durable is SLC-memory. It ensures a 100,000 write cycles, and is also the fastest of the three types – single cell erase time ranges from 1 to 2.5 milliseconds.
The next in reliability are MLC-chips. Their overwrite times are estimated to range from 3000 to 15 000, and the erase speed – from 2.5 to 3.5 ms.
The last place is occupied by TLC-memory – from 1000 to 5000 overwrite cycles and speed of 4 to 5 milliseconds.
What's the best choice?
Now you think that everything is clear – it is necessary to take the SLC and everything will be fine. And now it comes to prices – a 64GB SSD by Intel with SLC NAND memory on board will cost you approximately $200 or even more.  SLC technology is mostly used in specific servers that undergo huge read/write load and require high safety and reliability – banking servers,  government agencies etc.
Now that you consider SLC is not an option, there are only MLC and TLC left. Prices here are much more acceptable, and the choice here depends on the purpose of use.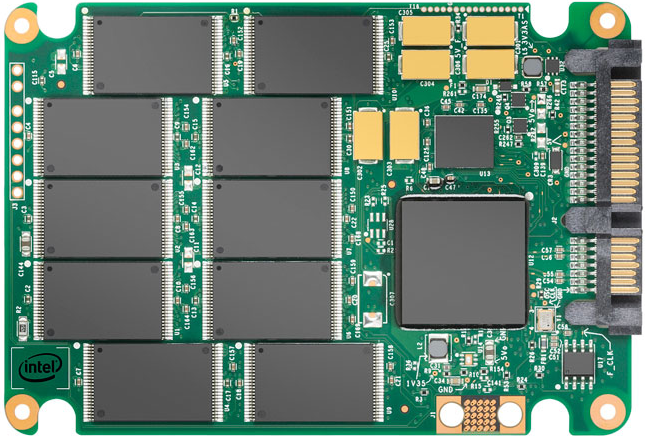 "Overwrite cycles" is a rather vague parameter for an ordinary user. To be more specific – tests show that with daily data load of about 20 GB (read / write) a typical TLC 128GB SSD can guarantee 5-6 years of performance – more than enough for any average home or office PC. At the same load MLC-device promises a few more years of performance – I'm sure that in 8-10 years you will consider to change this drive, taking into account the rapid growth of technology.
To sum up, SSDs with TLC NAND on board provide the most reasonable ratio between reliability, speed and cost per gigabyte. However, if you want to increase the level of data security and are ready to overpay a bit, then MLC solid-state drive is your choice.
We would recommend to use a small MLC-device with a capacity of 60-120 GB as a system disk, so that your important files will be better protected, and the cost will remain within reasonable limits.
For other needs like playing games, you can pay attention to TLC NAND with a volume of 256GB or more. Doing so, you get the best price per gigabyte, and in case of disk failure, the worst that can happen is reinstalling your games.
Posted by Author
On September 5, 2016
0 Comments