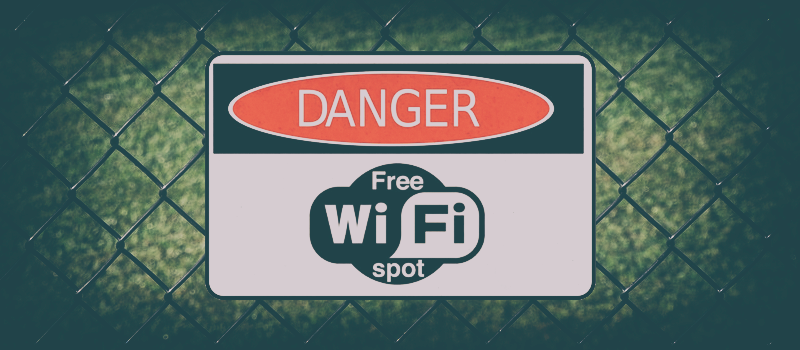 Wi-Fi as a technology has grown just within several years into must have thing for every household, public place or office. Wherever you go you check for available wireless network to connect. in order to stay online.
At the same time Wi-Fi network can be dangerous. Let's review several cases when you should be more careful using Wireless networks.
Using free public networks
Big cities can be almost covered with free public networks. Malls, restaurants, subway stations and even outside on the street can provide you with fast wireless connection to world wide web. It is believed that number of wireless access points will multiply four times before year 2020.
All this sounds great, but public places are the best way to establish fake public Wi-Fi that will simply suck in all data from your device: account information, logins, passwords, credit card information and other personal data.
Using e-banking
We are already used to the fact that you can control all your accounts from the computer and phone or tablet using online banking applications. But not all of us are aware of that over $900 million a year are stolen from user's bank accounts by simply fishing data on public networks.
So next time you are going to proceed with a transaction via your phone, make sure that you are connected to the secure network or use mobile data.
For described above, make sure that you have configured your devices the way it will not automatically connect to unprotected networks. Try using secure networks and use open access points in case of emergency only.
Using unsecure web-sites.
You may have noticed that some web sites addresses start with http:// other with https://.

Sites that start with https:// are secured and use encryption, so all the data you exchange with that site can not be read if captured.
Sites that use regular http:// protocol can be easily used as a great tool for the hackers to get your personal data when you are connected to the public network.
Domestic Wifi network
Having a Wireless network at home is another thing that we got used to. Very small number of users have their computers and laptops wired with RJ45. Despite all the comfort that Wifi brings to your home, you should follow security recommendation to keep personal data safe.
It is clear that you home network must be password protected. It will not take much time for your guest to enter Wifi key.
Firewall should be always ON
Another thing that should be activated on your Wifi router is Firewall. Some may say that Firewall will only make your Wifi and will block specific resources etc. It is still better to have Firewall activated, you can always configure your firewall the way you need. If you need help with configuration, simply start chat on the right-bottom corner of the screen.
Keep your router's firmware up to date
Every manufacturer that processes network equipment releases firmware updates. Sometimes adding new features, but most of the time in order to keep security of the network on the required level. Make sure that your firmware is up to date and proceed with an update if such is available.  If you are not sure how to do that, simply start chat on the right-bottom corner of the screen.
Posted by Author
On August 31, 2016
0 Comments