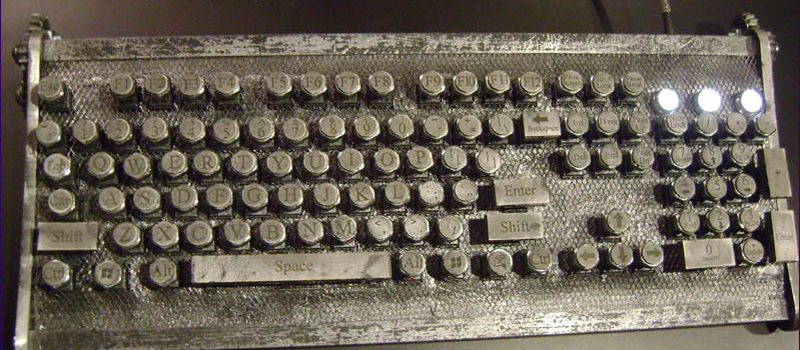 Keyboards, if cared for properly, can serve you faithfully for a long time! But one day you notice that some keys work only if pushed hard, and then completely stop responding to any action. It's ok if that's an external keyboard (you can pick a replacement quite cheap), but what if that's your laptop? Replacing a keyboard may become tricky and pricey. This article will help you find a way out of this situation.
Spilled water or any other fluid (especially tea with sugar or beer) is the most common reason for keys to stop working. After drying liquid will cause keyboard membrane to stick resulting in buttons not working. To rectify the situation you can only disassemble a keyboard for treatment. During disassembly lay out the keys on the table in the order in which they are located on your keyboard.
This will avoid the problem of proper installation keys back.
If the keyboard is not flooded with water or any other liquid, then have to look for problems in the deterioration of the same membranes. Over time, they become useless and should be replaced with new ones.
If the keyboard problem is not related to liquid, bread crusts exposure, or membrane deterioration, then it's the contacts that should be checked. This is especially true for keyboards with PS/2 connectors.
Dust may also be the reason for keyboard buttons to stop responding. Clean dust from the outside and inside of computer by blowing it with canned air or a vacuum cleaner, this may not only fix buttons issue but will speed up the system.
As well users are complaining on just a few buttons not working. This may be related to system causes and driver problems. Try updating keyboard drivers through a Device manager or download original drivers that came with your laptop.
Sometimes even a driver update does not help, and some keys still do not work. If you are completely sure that none of the above is the reason for keys to stop working simply backup your files and try re-installing operating system. These days both Windows and Mac offer easy ways to perform a clean re-installation.
Posted by Author
On February 29, 2016
0 Comments