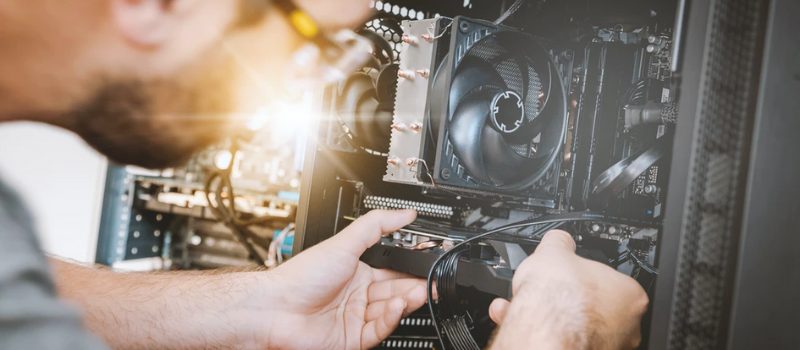 Imagine finally giving a shot on upgrading your PC. You found the necessary component to your computer, you replaced it, booting the system, and poof – your computer works as before (or even got worse). Many things can go wrong while upgrading your device, and we will try to help you find out what exactly.
Wrong bottleneck
If you upgraded the part you thought was sagging and causing the problem, but it still did not help, you have probably mistaken the necessary component. Every component has its limited functions, and finding the exact one depends on the issue you are having. Thus, it is better to run some tests beforehand.
Different purposes have different hardware requirements. If your primary concern is working with Photoshop or 3D modeling, then you probably need a CPU intensive. If it is gaming or deep video editing, GPU will become a priority. Although, gaming can be different. Some games are graphics limited, like fast action shooters. Others are CPU core speed limited like strategy or MMO. Multiplayer games with many participants tend to require many threads. You need to fill your demand.
Compatible technologies
One reason may be the mismatched component technology. You have to make sure that the component you are about to put in has similar specifications that the one you want to replace. There were many cases when the part did not give the expected results because of the compatibility issue. We understand that you may be tempted to buy a super brand-new and powerful GPU, but the problem is that it is not always for the best. For example, the latest AMD Radeon RX 6900 XT will have difficulties connecting with a motherboard manufactured around 2015/2016.
Another side of the issue is inner component specifications. Many components have different protocols, methods of working and connecting, etc. SSDs, for example, have SATA 3 and NVMe protocols, and switching between them by upgrading your SSD from one to another will have little or no boost to a computer. As for GPU, CPU, RAM, and other components, they are also considered to use the same methods and from the same manufacturer.
That is why you should take a look at the current module that you consider as a bottleneck and look for the best replacement based on its specifications. After that, you will be able to take a more compatible part without throwing your money away.
Сooling system
In some rare cases, the reason might not be in some processing unit at all. Do not forget that the whole system needs proper conditions under which it can operate, and that is when the cooling system comes in. Check if the PC temperature exceeds above 80°C while working. Overheating can quickly lower PC productivity and, in the long run, cause damage to the hardware. Instead, change the thermal paste, clean up the vents or buy new if needed. Nobody likes to work in the heat, even your computer.
Runout motherboard
Sometimes the reason for the problem is a runout motherboard. And if all the other components are simply replaced, the motherboard issue is a signal to start thinking about buying a new computer. Of course, you can try to revive your system with enough money in your budget but first, ask yourself if it is worth the fuss.
Conclusion
Unfortunately, when upgrading current hardware parts is a complete waste of money, building a new computer from the start will be a much better long-term solution. No matter how far you are ready to upgrade a five-year-old computer, it should not be considered an ultimate fix but rather a method to prolong its capacity for a year or two. Our needs and software are getting more demanding every year, and at some point, our devices cannot compete anymore.
Posted by Mary K
On May 5, 2021
0 Comments