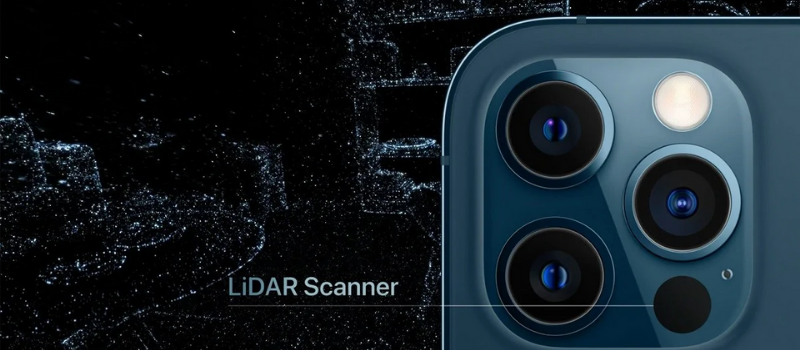 Last year Apple presented a new iPad Pro, iPhone 12 Pro, and iPhone 12 Pro Max, to which a new LiDAR technology was added. Not many users knew about its functional worth, and some do not know about it today. Let's take a look at what can be so interesting about Apple's move.
First of all, what is it? LiDAR stands for Light Detection and Ranging and is quite old technology for humanity in general. It is similar to how radar works; however, radars use radio waves. LiDAR uses a pulsed laser that records the time it takes for the signal to return to its source. It sends the laser into the chosen direction. Then it reflects from any material objects in that area and in nano-seconds gets back to the sensor, which gathers the data.
(Image: Apple Inc., all right reserved)
LiDAR, unlike simple radar, is more accurate. It can scan the details from the 100-meter range with the error of a few centimeters, although these are more improved sensors. Apple's LiDAR can catch the tiniest details within the range of 5 meters.
Where is it used? LiDAR is quite spread technology among cartographers to make a 3D picture of locations, by meteorologists to predict clouds trajectory and automobile companies that develop the auto-drive system. In this case, LiDAR helps cars orient in the surroundings and even identify the direction in which cars and pedestrians move.
So why does Apple use this technology for their products? Well, the answer is not that simple. One of the reasons is for more in-depth picture quality. Thanks to LiDAR the updated camera has a better autofocus capability – more speed and accuracy – and will make 'deeper' portrait photos, sometimes catching invisible for human eye details like hair. Apple also promises to have a better low-light focus – up to six times faster in the low-light surrounding. So taking photos on iPhone 12 Pro and Pro Max has further improvement.
(Image: Apple Inc., all right reserved)
Another point is 3D scanning of the surrounding and, to be more precisely – room interiors. If iPhone cameras were on a high level even before adding this technology, then adding 3D scanning is another breakthrough feature for Apple users. We are not talking about measuring dimensions with the Measure app that Apple users already got used to. We are talking about complete 3D modeling of the room that the apps like Canvas can make. 3D modeling is a practical way of using a LiDAR for the household, measuring all the objects' distances and curves.
(Image: Canvas, all right reserved)
iPhone's LiDAR has also pushed even more the development of Augmented Reality (AR) apps, which is the most exciting part of Apple's decision. AR was a very ambitious idea five years ago, but it still is in its infancy. AR lacks content, video games in particular, and apps that will not only be designed for the sake of creating but really catchy and appealing to the average smartphone user.
(Image: Apple Inc., all right reserved)
Apple has the potential to make it a thing. They have all the necessary resources to bring the idea of the AR into life and, as a result, prove their strive for innovations. Everything they need is an aspiring vision combined with a thoughtful strategy and perfect execution.
Posted by Mary K
On April 13, 2021
0 Comments