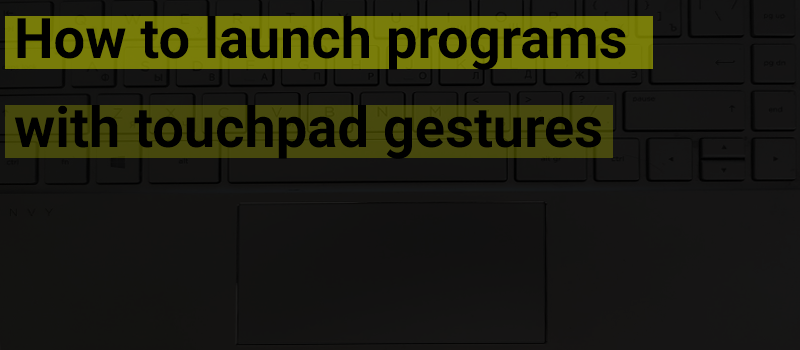 Modern laptops are equipped with touchpads that support various gestures that can be performed with just a few fingers. If necessary, you can change gestures performed with three or four fingers, in order to run your programs or built-in system utilities on Windows OS. Thus, we will tell you how to assign different moves to open the programs you need.
In order to be able to launch any program with a touchpad, we will first need to assign hotkeys to launch this software, and only then – synchronize this combination with a specific gesture.
By the way, if you need a specific gesture to work as a hotkey, you can simply assign it to certain swipe (for example, if you assign a shortcut Ctrl + A to swipe right with three fingers, then this gesture will work like selecting all items)
The procedure will look as follows:
Open the properties of the desired program. If the shortcut is on the

desktop

, just

right-click

on it and select "

Properties

" item in the context menu. If in the

Start menu

– right-click on such a program, hit "

More

" – "

Open file location

" and in the file location open the properties of the shortcut.

On the "Shortcut" tab, place the cursor in the "

Shortcut key

" field and press the key combination you need,

consisting

of the keys Ctrl + Alt + letter or number. After that, apply the changes made.

In Windows 10, go to "

Settings

" (Win + I keys), open the "

Devices

" – "

Touchpad

" item, and at the bottom of the page, click on "

Advanced Gesture Configuration

".

You can configure the actions of gestures with three and four fingers here. For example, you want

Google Chrome

to be

launched

if you perform a gesture with three fingers tap (as it is set on the screenshot above) Select the "

Custom Keyboard Shortcut

" item, and then click "

Start Recording

" button. After that, you need to

press the key combination

configured in

step 2

and either click "

Stop recording

" or hold the Esc key to stop it.
Now you are done! The configured gesture will launch the program for which you set the shortcut. Of course, the gesture can be assigned not only to open a program, but to access any system location and many more.
As a result, if you have a touchpad that supports multi-finger gestures, you can configure up to 10 different actions that can be quickly performed with 3 or 4 fingers. We hope that it will be helpful!
Posted by Author
On August 27, 2019
0 Comments