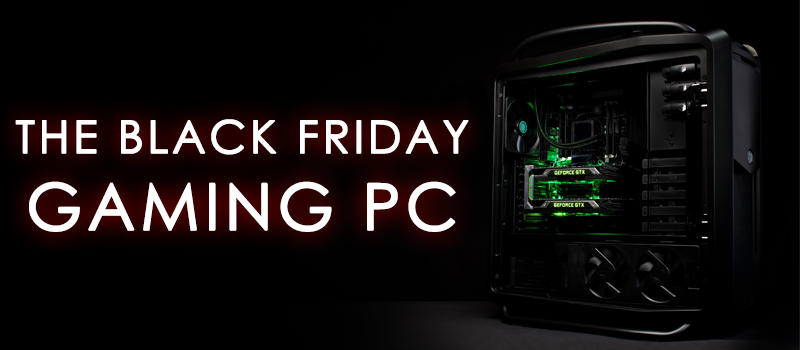 Black Friday and Cyber Monday are coming closer and every website creates the list of things to buy during the biggest discount period of the year. Since our website is totally computer related, our Black Friday list will consist of PC components every computer enthusiast would like to find under the Christmas tree.
Black Friday – Gaming Computer build.
It's been almost a year since we have chosen the best gaming PC configuration of 2016 and it's time to take a look at what changed in our preferences and compare the prices of our gaming solutions of 2016 and 2017.
Let's start with the heart and brain of every computer – the processor.

Last year we bought Core i5-6600K – a 4 core processor on LGA1151 socket with the support of DDR3 and DDR4 memory. We ignored the 7th series of Intel Core processors since the price difference did not cover the performance increase in comparison with the 6th series.
This year we welcome Coffee Lake – the 8th generation of Intel Core – and choose the processors of this series for our 2017 best gaming PC config. This year processors are recognized to be Intel's biggest jump on generational performance in more than a decade so there is not doubts that the new gaming PC should be built on Intel Core Coffee Lake, but the question is – on which one?
We have several options here:
The budget choice. Core i3-8100 with the price of $129.99. Could I ever imagine that Core i3 processor would be my fair choice for a gaming PC, but it's true. This year i3 processor performance is almost equal to the last year's Core i5, so choosing i3-8100 is almost the same thing as choosing i5- 6500.
Top performance choice. Core i5-8600K with the price of $258. This is a 6-core processor with the max frequency reaching 4.3 GHz. This is the beast!
Traditionally, K series processors don't have a cooler in box, so based on Amazon suggestion we choose Cooler Master Hyper 212 EVO for $29.99.
The only drawback of this processor is that you need to buy a brand new motherboard, since the 8th generation processors are not compatible with old chipsets and the new 300 series is represented on the market by quite expensive models so far. Everything will change in the first quarter of 2018, but so far you will need to spend quite a lot on the new motherboard. (But again, it's a gaming PC and we have never been looking at the budget models while choosing the PC components and we ain't going to wait for 4 months to save some $20 on the motherboard.)
Last year we used MSI Z170A Tomahawk AC to build our PC and that was a perfect choice. So this year we decided to stick to MSI and its Tomahawk series and chose MSI Z370 TOMAHAWK LGA1151with with the price of $161. It's not the most expensive motherboard among MSI, but not the cheapest as well and the list of supported features is more than enough.
Another $200 will go to buy 16GB of DDR4 RAM. This year prices on RAM sticks got much higher, but buying less than 16 GB makes no sense. So pick the memory you like from the list (you will unlikely feel the difference in the performance, it's just the design) and add it to your shopping cart.
Next thing you need is an SSD drive to run your Windows and games on. Some modern games take up to 90 GB, so you need at least 480 GB SSD. So let's choose classic Samsung 850 EVO at a price of $149.99
Now, it's time for the most expensive part of our computer – graphic card. Nothing has changed during this year and we still prefer GTX 1070 over other options and remain loyal to MSI, so Gaming X is the only part of our best gaming config choice that remains unchanged since 2016. Unfortunately, the price hasn't changed as well and you will have to spend almost $450 for MSI GTX 1070 GAMING X 8G
To power everything up we have chosen EVGA 700W power brick for $69.
It's time to make the calculations and see the totals.
Last year we spent 1301.28 to buy Processor + cooler + motherboard + RAM + SSD + Graphic Card + Power Supply.
This year we will have to spend $1352.11 for the same kit with i5-8600K processor. This 51-dollar difference can be explained by a bit more expensive DDR4 ram and a higher price on new Z370 chipset motherboards. Instead, you get 2 more cores in your CPU that will significantly add up to your computer performance.
If you decide to go with i3-8100 processor, that is almost the same as i5-6600, you will spend $1224.11 that is even cheaper than our PC Gaming config of 2016. Of course, you will not find much of performance difference, but with time you will be able to upgrade your processor to i5 or even i7 of the latest generation, that is impossible with older CPU+Motherboard kits.
I hope we helped you to get prepared to this year's holidays and you are waiting for the Black Friday and Cyber Monday to upgrade your PC with us. Feel free to contact our support team in case you have any IT related questions, we are here for you even in holidays season.
Posted by Author
On November 21, 2017
0 Comments