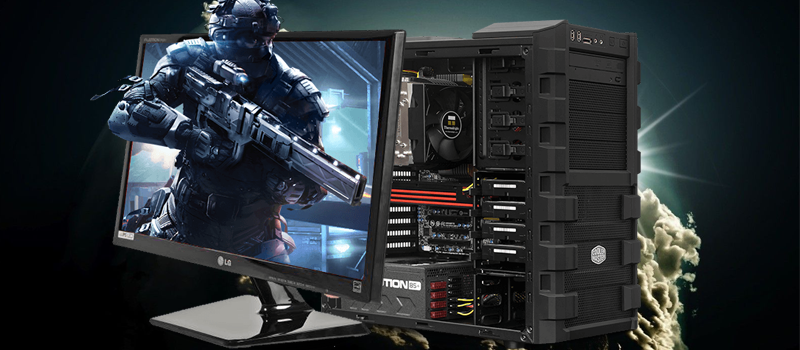 features and stories but also in graphics. Consequently, every game in the series is more demanding to computer requirements.
For example, here are minimum requirements of the last year Battlefield Hardline
Operating System: Windows Vista SP2 64-BIT (with KB971512 Update)
Processor: Intel Core i3/i5 2.4GHz or Athlon II/Phenom II 2.8 GHz.
RAM: 4 GB.
Graphics Cards: NVIDIA GTX 260 896MB or ATI 5770 1GB.
Hard Drive: 60 GB.
DirectX: 11.0.
Now let's compare them with minimum requirements of this year Battlefield 1:
OS: 64-bit Windows 7, Windows 8.1 and Windows 10.
Processor (AMD): AMD FX-6350.
Processor (Intel): Core i5 6600K.
Memory: 8GB RAM.
Graphics card (AMD): AMD Radeon HD 7850 2GB.
Graphics card (NVIDIA): NVIDIA GeForce GTX 660 2GB.
DirectX: 11.0 Compatible video card or equivalent.
As you can see, to play the game you need 2GBs more RAM and a graphic card of 4(!!!!) generations later.
However, these are just minimum requirements and if you want to get smooth gaming experience and enjoy the modern graphics of the game you need a much more powerful computer to play the game.
The recommended requirements would be :
OS: 64-bit Windows 10 or later
Processor (AMD): AMD FX 8350 Wraith
Processor (Intel): Intel Core i7 4790 or equivalent
Memory: 16GB RAM
Graphics card (AMD): AMD Radeon™ RX 480 4GB
Graphics card (NVIDIA): NVIDIA GeForce® GTX 1060 3GB
DirectX: 11.1 Compatible video card or equivalent
Available Disk Space: 50GB
Well, action games have always been demanding to your computer configuration, but even Civilization VI, released this year, cannot be ran on my current computer smoothly since it requires:
OS: Windows 7 64bit / 8.1 64bit / 10 64bit
PROCESSOR: Fourth generation Intel Core i5 2.5 Ghz or AMD FX8350 4.0 Ghz or greater
MEMORY: 8 GB RAM
HARD DRIVE: 12 GB or more
VIDEO CARD: 2 GB DirectX 11 Video Card (AMD 7970 or nVidia 770 or greater)
That's why I need a new gaming PC and I want to share my choice with you.
The Configuration:
Buying a new gaming computer, I never save on graphic card and processor, which allows me to play the latest games for a few years without upgrading the computer each fall (Traditionally the best games are being released at the end of the year). At the same time, I don't like branded computers like Alienware AREA-51 since they are too expensive.
So here's the configuration I chose for myself:
Processor:
Core i5 – 6600K  is powerfull enough to cope with all the games. (My old Core i5 3470 still works good after all these years, but it won't cope with a modern powerful graphic card). $236 sounds fair enough, taking into consideration that I'm planning to use this processor for at least 3 years.
Motherboard:
What I need is Intel Z170 based motherboard and I choose ASUS Z170-A (because I like ASUS and has been using their motherboards for 16 years) with the price of $149. (Our previous choice was H170 based processor).
RAM:
If you see that the recommended requirement is 16GB, make sure you need more RAM on your computer, since you have lots of programs running in the background while you're playing.
My choice is Kingston Technology HyperX FURY Black 32GB kit  with the price of $143. 16GBs would cost you only $70, but again, I'm not planning to upgrade my computer for years.
HDD+SSD
If you don't want to wait forever while your game is loading you better install it on a fast SSD drive, while HDD is good for storing your photos and video files. Modern games might take up to 100GBs plus you need a space for your Windows system, so for me a 256GBs SSD is the minimum requirement.
I stick with Hyper X 480GB drive  together with any 2TBs HDD at a price around $70.
Graphic card:
This is a core of my gaming PC and here I have 2 options. If you think I'm going to choose between NVIDIA and AMD – you are wrong. The choice is GTX1070 or GTX1080, all other cards are not even in the consideration list. My current GTX660 has been working for more than 4 years now and I still manage to get 70 FPS in some of this year games (not the lowest requirements), so paying for the latest generation graphic card I expect it to work the same 4 years. GTX1070 by MSI  costs around $400, while more powerful GTX1080 starts from $650. This is decision to make, and I stick to GTX1070.
The last thing we need is a power supply for 600W-650W. Telling the truth, I don't need one, since the one I bought 4 years ago is still working fine.
Now, assemble the PC – put all the components into the case you like – and start your hardcore gaming season.
The total is less than $1200. You might say that's a lot for a computer, but taking into consideration that this PC would cope with the games for (at least) the next 3 years that would be $400 per year. Not bad, right?
I hope you find this information helpful while choosing a PC config for your needs and see you in the battlefield.
Posted by Author
On November 3, 2016
0 Comments