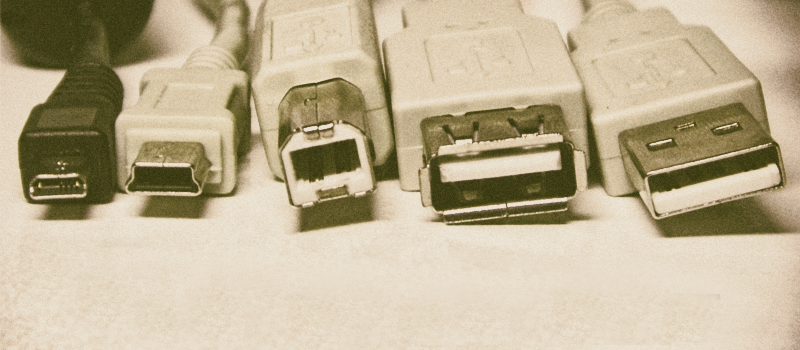 There are several types of USB connectors (Universal Serial Bus – Universal Serial Bus), that can be divided into three generations – USB v1.1, USB v2.0 and USB v3.0.
Version v1.1 is rarely used nowadays because of its very low data transfer rate (12 Mbit/ s). It is mostly used for compatibility purposes.
The next generation – USB 2.0 is now, maybe, the most wide-spread in the market. Most modern devices support this version that has the data transfer rate maximums at 480 Mbit/sec, or 48 Mbytes/sec. However, due to some drawbacks in implementation and design, the actual speed rarely exceeds 30-33 MB/s. Many hard disk drives are capable of reading information at a rate being 3-4 times greater than that. USB v2.0 connector is a bottleneck that hinders the work of modern drives. At the same time, it does not really matter for mice, keyboards and other non-storage devices.
The third generation is USB v3.0. It is marked in blue, to indicate its last generation. The data transfer speed here is considerably higher – 5 Gbit/s, which is equivalent to 500 MB/sec.Taking into account that that state of the art SSD drives today have average speed limits at approximately the same level, it makes USB 3.0 a very good choice for portable storage units.
USB 1.1 and 2.0 connectors are absolutely similar in structure and are fully compatible with each other. If one of the connected parties supports version v1.1 only, the data exchange will take place at a reduced speed, and the operating system will display the message: "This device can perform faster", which means that the computer is using a USB 2.0 port while connected device supports v1.1.
Compatibility between USB 2.0 and 3.0 is somewhat different. Any USB v2.0 device can be connected to the third version of the port, marked in blue. But the reverse connection (except for USB type A) is not possible. In modern cables and devices USB v3.0 provides additional contacts, that contribute to the speed of the interface.
USB v2.0 and USB v3.0 connectors are also classified by type (type A and type B) and size (MiniUSB and MicroUSB).
USB 2.0 Type A
USB Type A is most prevalent and is the most recognizable. Most devices (mouse, keyboard, flash drives, cameras, and many others) have a USB type A connector, that was developed back in the 90s. The main advantage of this port is the reliability to withstand large number of connections without losing its integrity. Although the connector has the rectangular shape, it has protection against incorrect connection it impossible to plug upside down. However, Type A has a sufficiently large size, therefore not suitable for portable devices. This resulted in smaller modifications of USB 2.0.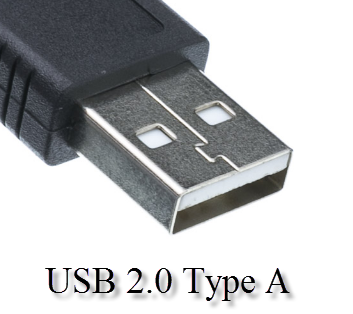 USB 2.0 type B
USB type B connectors are less popular. All modifications of type B, including Mini and Micro, have a square or trapezoidal shape. Traditional full-sized type B is the only type that has a square shape. Due to the large size it is used in various peripheral and stationary devices (scanners, printers, ADSL-modems). It is common that printer manufacturers rarely bundle their products with such a cable, so the customer should buy it as well..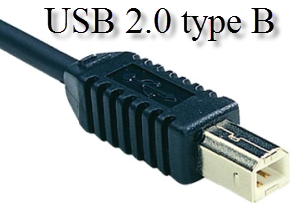 Mini USB 2.0 Type B
With multiple compact devices on the market, Mini USB type B connectors were getting more and more popularity. This kind of connectors is most used with portable hard drives. If compared to the large connector with 4 contacts, the Mini USB type B has five contacts, however, one of them is not involved. Unfortunately, miniaturization had negative impact on reliability. Mini USB connector starts to become loose with time. At this time, it is still widely used in portable hard drives, iPods, card readers and other compact devices. The second modification of Mini USB – Type A is almost not used. Also, Mini USB is getting less and less popular with Micro USB gaining its share.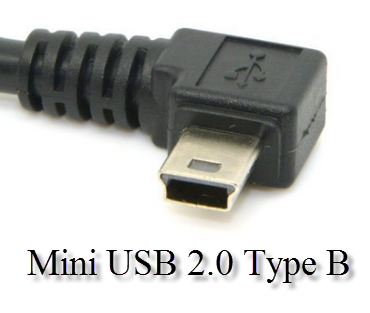 Micro USB 2.0 type B
Micro USB type B connector is a modified version of the previous type Mini USB type B and is very tiny size, allowing manufacturers to use it in compact and slim devices. Due to an improved fastening plug is very tightly seated in the plug and does not fall out of it. In 2011, this type of connector has been approved as a single standard for charging smartphones, phones, tablets, music players and other portable devices. This solution allows to use a single cable to charge all the devices. Almost all smartphones are now equipped with this type of connector. Type A is rarely used.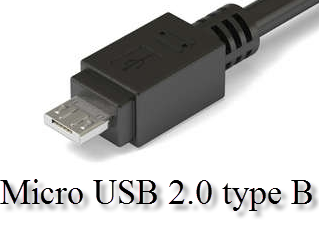 USB 3.0 Type A
USB v3.0 standard provides significantly higher data transfer rate compared to the previous generations. Additional contacts in the new generation of USB connectors led to significant changes in the form of almost all the USB 3.0 connectors. However, type A remained seemingly unchanged, except for the blue core. This means that USB 3.0 Type A is still compatible with previous generations and can work with USB 2.0 plugs losing only in speed and vice versa. This is a major difference from other connectors of the third generation of USB. These connectors are commonly found in modern laptops and computers.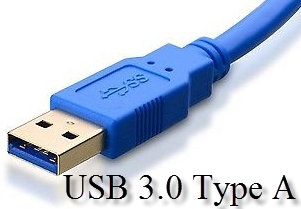 USB 3.0 type B
USB 3.0 type B is used in medium to large high-performance peripheral devices – NAS, as well as in stationary hard disk drives. Connector has undergone significant changes, so it can not connect to a USB 2.0 port of the same type – USB 2.0 Type B.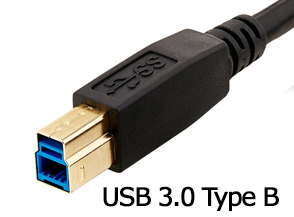 Micro USB 3.0
Micro USB 3.0 is the successor of the "classic" Micro USB connector and has the same features – compact, reliable, high-quality connection, but provides a higher data rate. Its is mainly used in modern high-speed external hard drives and SSDs. It is growing in popularity. The design is much similar to Micro USB 2.0 though a bit different. Thus old connectors of the same type will fit to the new type of plug, but not vice versa.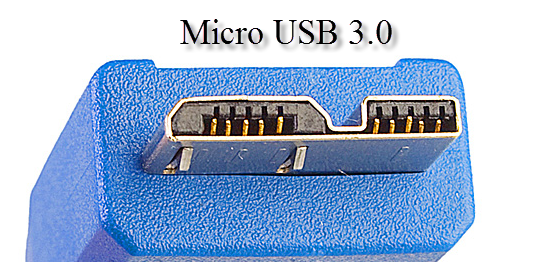 The difference between the Micro USB and Mini USB.
People sometimes confuse Mini USB and Micro USB connectors that look alike. The main difference is that the first is slightly larger in dimensions, and the second has special little locks on the rear side. Do not get confused=)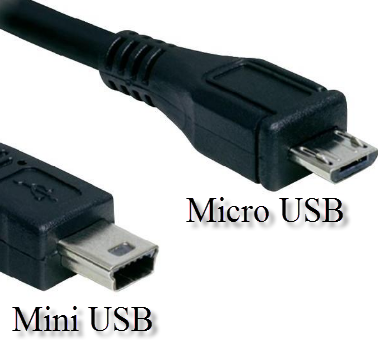 Posted by Author
On August 9, 2016
0 Comments