Starting with the introduction of Windows 10 by Microsoft, Windows 7 and WIndows 8 users have been constantly bugged and spammed with upgrade notifications, all due to little Windows icon in their system trays called GWX (Get Windows 10). Here is how to disable and remove that icon and put an end to annoying notifications.
GWX upgrade is an icon and dialog that resides in user's system trays and has been bugging Windows users for quite some time now. There people who are not sure if they want to upgrade to Windows 10, or even those wanting to stay on earlier versions. When you click this icon, a dialog will appear, which will determine if your PC is Windows 10 ready, if you're eligible to upgrade for free and, of course, regale you with all the wonderful things Windows 10 will mean to you.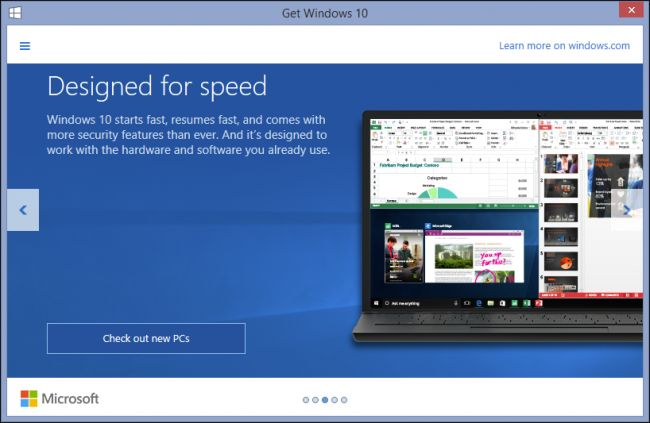 This new icon and its resulting dialog are actually part of an application that appeared in late April 2015 as a recommended Windows update (KB3035583), and which has undergone several revisions to facilitate the upgrade process as well as skirt efforts to remove it.
Basically, KB3035583 simply lets Windows Update pester you about upgrading to Windows 10. KB3035583, otherwise known as GWX, is an executable that starts with your system via the Task Scheduler.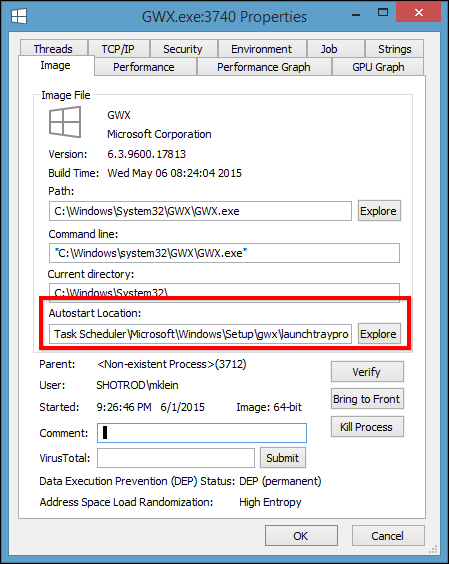 GWX.exe is the system tray icon. When clicked, it launches an application, which is actually an upgrade dialog went over earlier.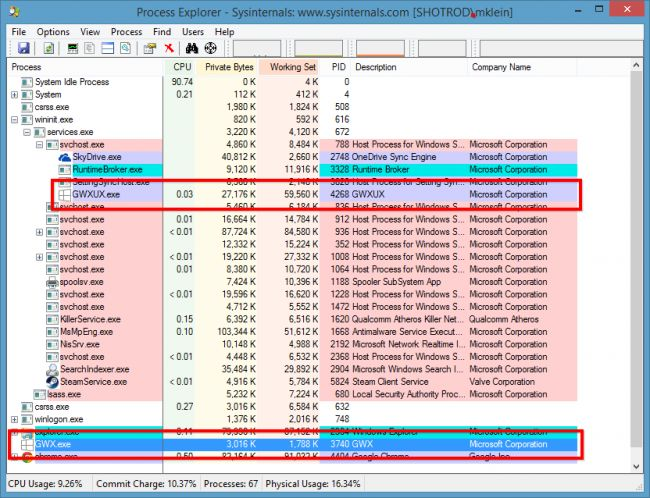 Microsoft itself have given instruction on deactivating these notifications. And they do work…. until you restart your PC.

You can't right-click on the icon and tell it not to bug you anymore, and while you could remove its entry from the Task Scheduler, that doesn't actually remove the GWX application from your system.
The best way to prevent Windows 10 upgrade notifications
So, what follows is what currently appears to be the absolute best way to do so, by using a small (81KB) freeware tool called Never10
This little app was developed by a respected security researcher Steve Gibson, so you can be sure that it will not cause any harm security wise.
Never10 doesn't require installation; it runs as a standalone executable. So just double-click it to start it up.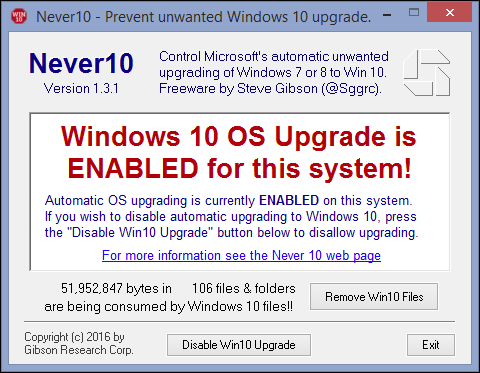 When app opens, click on Disable Win10 Upgrade and you shouldn.t be bother by GWX again.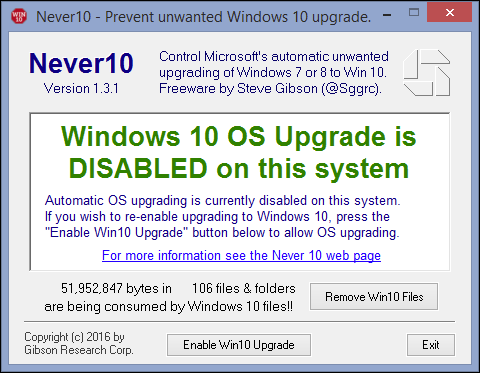 Keep in mind that the GWX system tray icon may not immediately disappear from your system tray, instead continuing to reside there and even offering to help you with the upgrade if you click on it. I discovered however that it did indeed go away after a simple restart.
In HiTech Service however we need to reiterate that we do believe that if you're using any recent version of Windows (7 or 8.1), or you've held off and are still using Vista or even XP, that this is the time to finally take the plunge. Windows 10 is a worthy upgrade and probably an unqualified success at retaining the spirit of Windows 7 while correcting the ills of Windows 8.1. That being said, installing a separate application as a recommended update is a sneaky way to go about ensuring user adoption. Add to that the fact that there's no simple way to disable the GWX.exe application other than removing its autostart line from the Task Scheduler or uninstalling it through Windows Update, and we're further puzzled at Microsoft's reasoning and lack of transparency.
Hope this article helped! Be sure to check more tips and tricks in the articles section of hitech-us.com
Posted by Author
On June 27, 2016
0 Comments