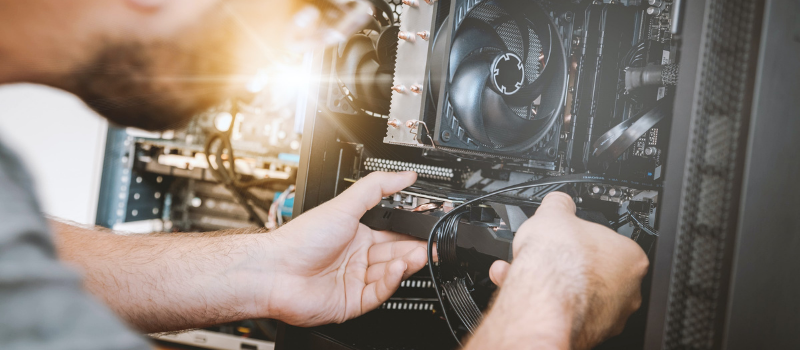 If you noticed that your computer processing tasks for a longer time than you want it to, we have bad news for you – you need to upgrade your computer. Nothing lasts forever, so we recommend you to look for new PC components to boost its speed and prolong the computer's "life" as much as possible. Fortunately, you can find the answer to the question in our article!
But before you might even begin searching for the ready answer, you should really ask yourself a question – why do you want to improve your computer? If the answer is to flex how "powerful" your computer is – it is probably not the right motivation. Maybe you want to build a "gaming tower" to strike everybody on your way in your favorite game. Instead, you should look at the PC characteristics and look for the weak module. It is much better to replace the problematic item before wasting your money.
RAM
The first thing that you have to begin with is probably your RAM. This part is crucial in keeping your system sharp, solving problems, and completing tasks quicker. The rule with new RAM is simple "The more – the better." You can change your RAM if it's below 4 GB with no hesitation. Anything more is good. We recommend buying anything bigger than 16 GB for the people whose work is deeply connected with large quantities of information or gamers. Otherwise, you will not use all its potential. Also, check if the new RAM will be compatible with other PC components. Otherwise, it will not work.
Take into consideration to back up all your data before you even open your computer case. None of us is insured from the accidents, and sometimes details can be damaged, which will lead to unwanted consequences.
HDD
The next thing that you should take into account is your storage. Typically, most PCs have HDD (Hard-Disk Drive) implanted inside when you buy them in a store. The problem with HDDs is that they are slow and need frequent defragmentation. Luckily, you can use an SSD instead. It shortens PC boot time, improves the applications' work, and speeds up file copying greatly.
GPU
Once you start upgrading your desktop, you should also consider buying a new graphic card. If the system is working fast enough, the problem might be with its capacity to show a good picture. Although most users do not have such problems, it can be a pain in the neck for gamers and some graphic designers. If this is the case, have your eye on the latest NVIDIA or AMD graphic cards that are top on the market these days.
PC Case
At first sight, a computer case does not seem like a necessary part of upgrading the PC, but that is not true. Even though the case does not provide any functional upgrade to the computer's work, it creates an environment where every piece of hardware does its duty. A good case may provide a PC with a better cooling system, filters to keep dust out of the case, and extra space for more components like additional graphic cards.
Cooling System
Talking about the cooling system, it is a must. We would recommend buying some fans to keep the temperature inside the case lower. All computer parts produce heat, and the cooling system works like air conditioning inside. There is no need to change CPU, GPU, or any other computer part every half a year due to overheating. If you crave to go a real pro to build a gaming PC, then take a look at liquid cooling systems. These coolers usually have two or more fans and contain special liquid to cool processors directly. It may sound complicated or even dangerous to put liquid anywhere near the working computer. Still, if installed correctly, it is way more efficient than any air cooling system.
Motherboard
Last but not least is your motherboard. The exact plate connects all these components with the PC and makes them work. A motherboard should not be a problem for the average users: get the cheapest one that fits your needs. The market is currently filled with top manufacturers such as ASUS, Gigabyte, and MSI. The gamers' doors are more wide-open, but the decent motherboard can cost up to 700$. In this case, they may contain additional fans and sockets for an extra graphic card, for example.
At all events, you can buy a new computer. Some components will not help you much if your motherboard is already out of date. You have nothing better to do than save money to build your brand-new PC with all the best components and have nothing to worry about for a few more years.
Posted by Mary K
On March 16, 2021
0 Comments