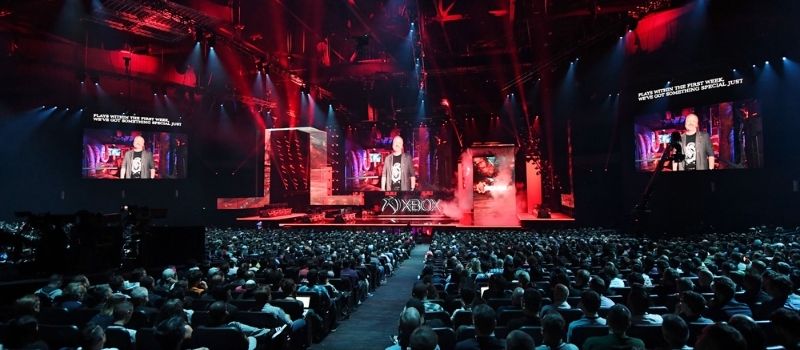 Every year June starts to return to its previous state – being the primary gaming month. This summer gaming industry flourishes with updates giving us promising and ambitious projects despite being shut down due to a global pandemic. So check out all the big releases we have gathered for you and start saving your money because some of them are must-play.
Ubisoft
This year was quite productive for Ubisoft. Considering that Assassin's Creed Valhalla was released in 2020, the company still made grand announcements.
Rainbow Six Extraction
Ubisoft presented the next generation of Tom Clancy's series – Rainbow Six Extraction for all Rainbow Six Siege fans. Although, this time, players seem to not compete against each other. The new Rainbow Six will focus on PvE (Player vs. Environment) battles instead of PvP (Player vs. Player), focusing on their cooperative missions and not competitive fighting.
The game setting reminds me of a typical film scenario where people have faced alien live beings on Earth after the fall of some meteor. Since then, humankind is trying to stand against these mutant intruders.
Release date: 16 September 2021
Riders' Republic
Another original game prepared by Ubisoft is Riders' Republic. Especially for extreme sports lovers. If you feel like jumping with a parachute, going on a snowboarding adventure, having a mountain bike race, or even racing with a jetpack on the back, that game is for you. Game is all about having fun in a free community, so don't forget to call for your friends.
Release date: 2 September 2021
Just Dance 2022
Just Dance 2022 will come this year as this year's compilation of music. The greatest and the funniest game for a group of friends and parties will have seven different songs to start with, and more are coming. Warm yourself up and put your dancing shoes on
Release date: 4 November 2021
Far Cry 6
The following big news was a release of a new Far Cry 6. The series tells the story, but it is supposed to be a bit more refreshing. This time the main antagonist, Anton Castillo, is going to be 'a hero' who is doing the best for his people. The setting of the upcoming sequel is a bit different, as it varies from game to game and will show us a paradise island – Yara – ruled by a dictator.
Release date: 7 October 2021
Mario + Rabbids: Sparks of Hope
The story of Mario and Rabidds continues in Mario + Rabbids: Sparks of Hope. For those who may not know, this is a sequel to Mario + Rabbids: Kingdom Battle. Sparks of Hope will tell us the story of Mario and his squad in the galaxy fighting evil. The game is a collaboration of Ubisoft and Nintendo. The game series is an exclusive available for Nintendo Switch.
Release date: to be announced in 2022
Avatar: Frontiers of Pandora
An absolute surprise was an Avatar Frontiers of Pandora teaser trailer. Ubisoft revealed some cuts of the scenes, and the game will land on the next generation of consoles in 2022 (the same year as a sequel film). The game aims explicitly to "expand and deepen in the Avatar universe in exciting and innovative ways along with the films." The free world, the first-person game, will show us mind-blowing landscapes. We hope for nothing less than a well-written storyline because James Cameron personally worked along with the company on production, so the anticipation goes overboard.
Release date: to be announced in 2022
Nintendo
This year Nintendo pleased its fans with some minor and major releases. Spoiler alert: Nintendo did not announce its Nintendo Switch Pro this year.
Metroid Dread
Also, Metroid Dread will take place after Metroid Fusion. The legendary game is returning on Nintendo Switch. Being the 5th game in the series, Metroid Dread is the first new game in almost 20 years! The classic game will be released in 2.5D view, meaning the gameplay is still in 2D, enhanced with modern graphics, and some scenes will be played in 3D.
Release date: 8 October 2021
Legend of Zelda: Game and Watch
Zelda fans will enjoy a new Legend of Zelda: Game and Watch. The latest Game & Watch will be hardware that gathers three classic games: Legend of Zelda, Zelda II: Link's Adventure, and Legend of Zelda: Link's Awakening. As for the new game release, Breath of the Wild Sequel is revealed to be in 2022.
Release date: 12 November 2021
Square Enix
Guardians of the Galaxy
Square Enix Presents 2021 also surprised us with a new Marvel game, Guardians of the Galaxy. This game will not be a simple update to the existing Marvel Avengers game, but rather a different game staring the same characters Peter Quill, Gamora, Rocket Racoon, Groot, and Drax, though you will play as Star-Lord.
The game seems to be around a lasting single-player story, although it is unlikely that the multiplayer is going to be integrated. Space traveling, exotic planets, and music from the '80s will be available for all gaming platforms.
Release date: 26 October 2021
Life is Strange – Remastered & True colors
Life is Strange Remastered collection and Life is Strange: True colors series will be released by Nintendo. Taking into account the massive popularity of the interactive storytelling game, this was only logical. Alex Chen continues the story after the traumatic death of her brother. Gamers must find out the truth together with Alex on the so-called "accident."
Release date: Remastered 10 September 2021
True colors 25 September 2021
Stranger of Paradise: A Final Fantasy Origin
Ultimately, Team Ninja teased Stranger of Paradise: A Final Fantasy Origin trailer. Despite having an exclusive demo for PS5, the Final Fantasy lovers should wait for a little longer. Even though the game is related to Final Fantasy games and the story's events are in the same universe, it still feels like a different game. So before Final Fantasy 16 is released, the fans would enjoy the spin-off for the storyline.
Release date: to be announced in 2022
Microsoft and Bethesda
Starfield
In the beginning, the new ambitious project named Starfield was announced. This is Bethesda's game created by the teams of both The Elder Scrolls Skyrim and Fallout 4 and took 25! years to develop. The game will be an Xbox exclusive (although not an actual exclusive as it will be available for PC gamers too). Starfield will be available since day one with Xbox Game Pass.
Release date: 11 November 2022
Stalker 2: Heart of Chernobyl
Stalker 2: Heart of Chernobyl showed us another trailer; however, this one was more extended. The game seems an independent game, but we do not exactly know if it is a sequel. The main protagonist is different – a stalker named Skiff. The gameplay is going to be the same as in previous games, although with better graphics. Stalker 2 will be available since day one with Xbox Game Pass.
Release date: 28 April 2022
Back 4 Blood
Left 4 Dead creators prepared a new zombie slasher game, Back 4 Blood. The gameplay seems to have several modes for playing four-players cooperative missions, human versus zombies survival, PvP battles, etc. Back 4 Blood will be available since day one with Xbox Game Pass.
Release date: 12 October 2021
Fallout 76 Steel Reign Expansion
Fallout 76 is getting a big expansion related to Brotherhood of Steel. Also, a new expedition and map will be added, extending the world setting. Fallout 76 is an online RPG game based on the Fallout universe, which is out since 2018.
Expansion release date: ready to play
Halo Infinite
Halo fans should be pleased with a new multiplayer reveal trailer Halo Infinite. The game was initially a single-player game with an open-world setting, giving players more freedom than previous games. Though, the multiplayer was confirmed to be free-to-play.
Release date: 4th calendar quarter of 2021
Among us
Interestingly, Among Us announced it would come to Xbox. The game was a mobile boon last spring during the pandemic. Simple control settings are perfectly suitable for playing with a gamepad, so the release was only a matter of time. Although the mobile version has permission for up to 10 players per session, it will expand on Xbox. Among Us will allow creating 15 players lobbies with new bigger maps.
Release date: ready to play
Redfall
One of the very few Xbox exclusives that captured our eye is Redfall. Developed by Arkane Studious, the trailer showed us the cooperative shooter telling the story after the failed experiment in the town of Redfall. A group of four people, who have their skills, brains, and paranormal abilities, is fighting versus constantly evolving vampires to clear the mess and put an end to the mysterious creatures.
Release date: to be announced later in 2022
Atomic Heart
Atomic Heart presented a new musical, cinematic trailer. The game has quite an original setting showing us the post-apocalyptic days of the 40's futuristic fantasies. The tailor did not show us much other than some fighting scenes in the alternative world of the Soviet world.
Release date: to be announced
Forza Horizon 5
Forza Horizon 5 debuted with a new cinematic trailer continuing the atmosphere of the series. Forza is a car racing, exploring, and multiplayer game for having fun. The world of the new game will be developed around the setting of Mexico, giving a vast open world. The developers said that this is the most massive world they have ever built. Like Crew 2, the game welcomes players to have fun and competition with a wide variety of cars to try on. Hit the road next year.
Release date: 9 November 2021
Summer Game Fest
Elden Ring
The biggest revelation of this month has to be Elden Ring presented during Summer Game Fest. Besides a stunning trailer, the dark fantasy game is a collaboration of Hideteka Miyazaki – the father of Dark Souls and Bloodbourne – with George R.R. Martin – the author of Game of Thrones. The anticipation is on the other level, especially for those familiar with both games of the company.
Release date: 21 January 2022
EA
Battlefield 2042
EA Play presentation will only be held on 22 July and is the last of the gaming development heavyweights left. Even though the new Battlefield 2042 has already released both cinematic teaser trailer and gameplay trailer later during extended Xbox gameplay presentation.
Posted by Mary K
On July 8, 2021
0 Comments