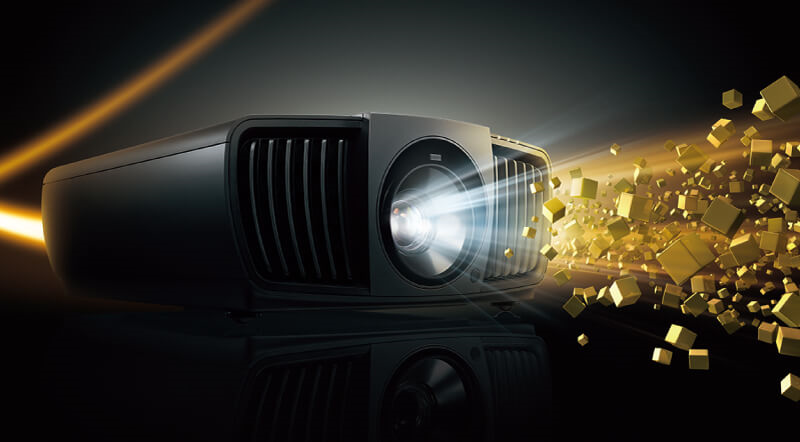 Nowadays, projectors are widespread in everyday life, you can find those in offices, educational institutions or even at malls. In some cases, this appliance is used to bright up a presentation or to add some explanatory slides to working reports. At home projectors can be used as a home theater to watch movies or even play computer games. These devices become more and more popular with each day as the picture gets better as well – bright, contrasting, clear, and of a big size (much bigger than on a TV). But before buying a projector for your purposes, you should know what kinds of projectors are available on the market to make a right choice.
A projector is an electro-optical device where algorithm of operation is based on the work of the light projection. This equipment is designed to send an image signal on a remote screen.
Talking about how it works, there is a lamp inside, which is a source of luminous flux. Passing through the optical system, the flow in accordance with the principles of light projection is divided into three colors (red, blue, green). Next, it enters the modulator (liquid crystal or micromirror matrix), which creates a pixel structure. The control unit, receiving signals from the image source, adjusts the direction of the modulating matrix. The lens, in accordance with the principle of focusing, collects streams of different colors and forms an image on the screen.
There are three main types of projectors regarding their image quality and hardware:
LCD – Liquid Crystal Display
DLP – Digital Light Processing
LED – Light-emitting Diode
Let's make a review on each one.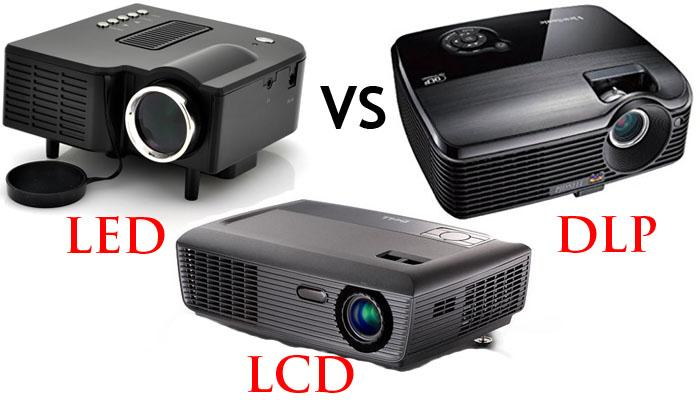 LCD Projectors
Probably the most available devices that get higher sales with each year. The principle of their design is based on the image which is formed by a liquid crystal matrix. This technology is considered inexpensive and therefore LCD-based devices are very popular. There is an improved 3LCD technology that uses 3 matrices instead of a single matrix, one for each of the colors. The quality of models with similar technologies may vary in the quality of the projected image and, of course, affects the price of the device. Budget models, for example, can project video files with an increased distance between pixels, which creates a certain discomfort when looking at the image.
Another subclass of LCD devices can be considered projectors based on technology which is called LCoS – Liquid Crystal on Silicon. It was created using a silicon-based liquid crystal component. Its feature based on the LCD matrix that works on the reflection of the image but not on the light, as is common in LCD projectors. Talking about quality of an image here, these models show not only excellent colors, but also a great contrast. However, the disadvantage is a lack of brightness, which eliminates the use of the projector in daylight.
DLP Projectors
DLP is the main competitor of LCD, since the pricing policy of these two systems is almost the same and they have minor differences. But DLP projectors have their features that are not related to LCD visualization tools.
The advantage of the image, reproduced with the help of the DLP technology is essential – these projectors can smooth out the low quality image, filling it with live action and naturalness.
The main disadvantage of this technology is called the "iris effect". Such a concept signifies the appearance of rings of several colors around objects that are set in motion. Also, this drawback can be noticed if you quickly transfer the view from one corner of the screen to another. As a result, the presence of this error convinces many users to abandon DLP technology exploitation. There is a large amount of controversy here and some people believe that the "iris effect" cannot be a significant drawback. User failures can be attributed to poor perception of image imperfections. Also, such projectors have a low level of color transmission, but the contrast is much higher than the one on LCD models.
LED Projectors
Popular LED technology is now being installed on many light sources and allows you to achieve maximum color flow with minimal energy costs. Due to their popularity, LED projectors are considered to be the most purchased devices. LED technology allows you to create portable projectors, which you can carry with you if you want to. Some modern smartphones acquired such projectors as well and are considered to be the smallest of a kind. Having a small size of devices, LED-projectors have good color, image quality and excellent contrast.
As it was mentioned above, you need to know exactly the scope of use of your device to make a wise choice. A variety of devices allows you to choose on quality and pricing. Also, do not immediately pay attention to the devices with high prices. It may happen that the extensive functionality of this model would not be useful for you in the future.
Posted by Author
On December 24, 2018
0 Comments